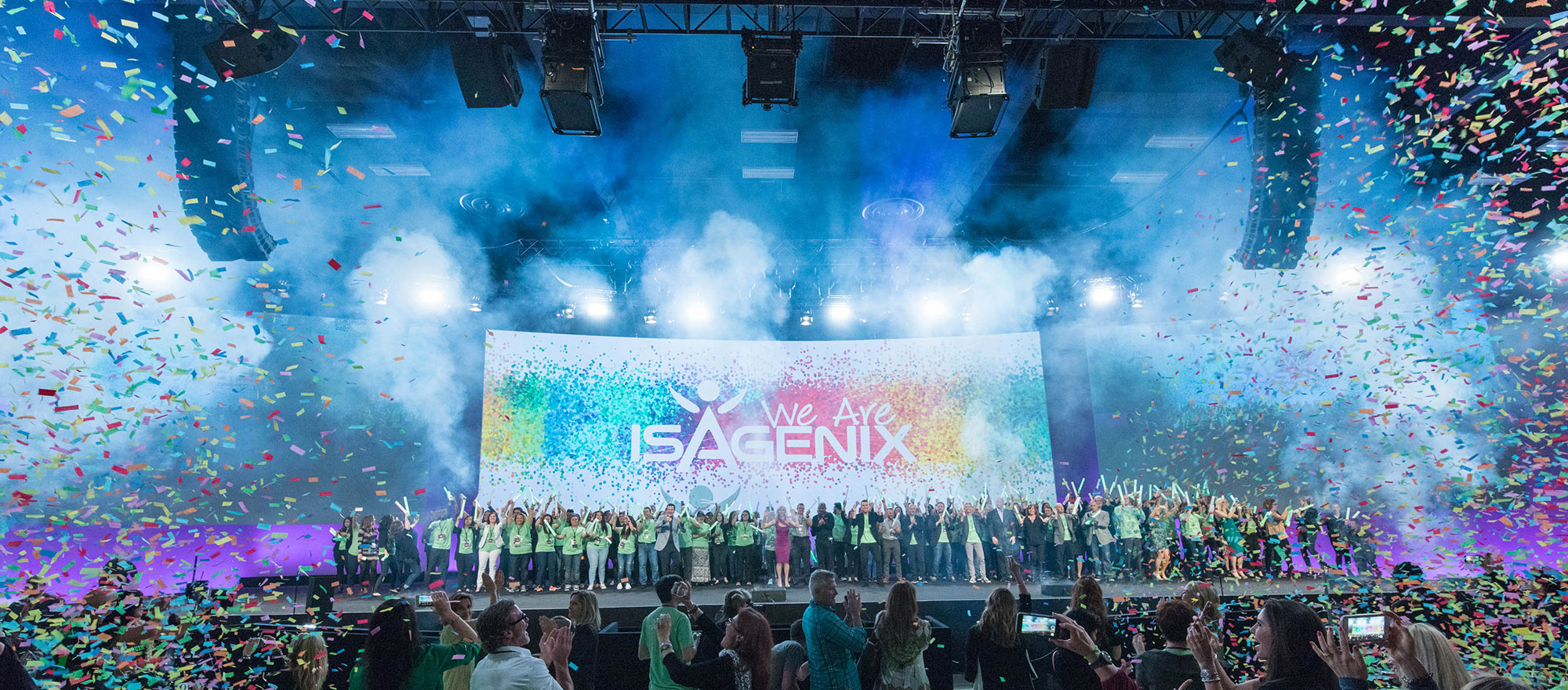 Celebration (August 5 – 7, 2018) offers Isagenix Associates the chance to reset, refresh, and reignite our fire to share Isagenix and positively impact world health. This event is packed with training sessions, networking opportunities, promotions and product launches, and more.
This flagship event features powerful training sessions to help attendees build their Isagenix businesses and lead their teams down the road to success. This event boasts a star-studded lineup of trainers who are prepared to share their insight and experience, transform the way attendees approach business building, and inspire and empower them to bring their businesses to the next level and finish the year strong! Plus, Celebration attendees have the opportunity to take part in several parties, receptions, and recognition ceremonies, like the prestigious Gala Awards, START Party, and more.
Get your ticket at the best value – prices will increase soon!
$149 from August 1, 2017 to August 31, 2017
$199 from September 1, 2017 to January 31, 2018
$259 after January 31, 2018.
Bridgestone Arena

501 Broadway, Nasvhille, TN 37203
(General Session)
Music City Center (located directly across the street from Bridge Stone Arena)
201 5th Avenue S., Nashville, TN 37203
(Registration, World of Isagenix, Breakout Sessions)
Room Block Information is Coming Soon!
Saturday, August 4, 2018
Registration
World of Isagenix
Sunday, August 5, 2018
Registration
World of isagenix
Science Talks
Leadership Meeting
General Session with Product Launch
Monday, August 6, 2018
Registration
World of isagenix
General Session
Breakout Sessions
The Gala Awards
Tuesday, August 7, 2018
Registration
World of isagenix
General Session
All Agenda items are subject to change!
The Isagenix Events app will be your lifeline at all Isagenix events. If you have ever attended an event, or plan to in the future, you need to download this app!
By downloading the app and logging in, you will have access to the General Session agenda, trainer bios, venue map, reception and party information, and more. In addition, the app allows you to receive personalized push notifications so you can stay up to date on important announcements on-site.
Here's how you can download the Isagenix Events app:
Search for "Isagenix Events" in the App Store or Google Play.
Download the app to your iOS or Android device.
Download the "2018 Celebration" event in the app.
Log in to the app by clicking "How to Log In," and then follow the instructions.
Now you can check out all the information about 2018 Celebration!
Although children are generally welcome at Isagenix events, children 16 years of age and under must be accompanied by a person 18 years of age or older, and proof of identity and age of the person 18 or older must be provided on request to gain admission to the event.  Isagenix reserves the right to limit attendance to certain events to persons who are at least 18. Due to the noise, volume, theatrics, and length of certain events, especially during general sessions, these environments may be uncomfortable for children under the age of 16.  Before deciding to bring children to any event, consider the environment and the potential impact on others attending the event. Isagenix will not issue refunds based on a complaint that any aspect of the event, including the behavior of other audience members, causes discomfort or offense to you or any children in your party.
Isagenix would like everyone to participate in all events and activities that UIA Toronto has to offer. This is your time to absorb every precious minute, glean every piece of education, and share every moment of success. Because of the short amount of time, all ICW meetings will not be approved for the dates of September 8-10. Any ICW meetings before or after these dates must be scheduled through the venue directly.